FAQs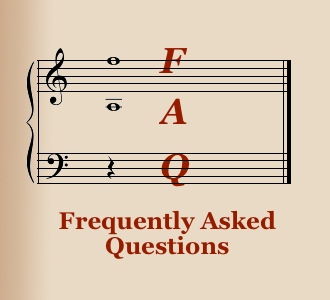 If you have a question not covered in this list, please send me a message through my Contact Page.
QUESTIONS ABOUT PURCHASES

I just ordered music from your site. When will you mail it to me?

All music on this site is sold as a digital download only in PDF format. When you order, you will be able to download the music to your computer and print it off yourself. This allows you to receive your music faster than having it mailed and you don't have to pay for printing, shipping, or handling costs. Think how much you are saving our planet by getting your music this way! If for some reason you would like me to print the music and ship it to you, please send me a message through the Contact Page so that I can give you the costs for printing, shipping, and handling.

I just purchased music from your site. Where do I download it?

You will need to return to the website
http://janetlanier.com
and log in to your account with your username and the password you set. Click on "my account" and you will see a link that says "click here to view your file downloads". This is where you can download your PDFs and print them to your computer. If you have any trouble with downloading or logging in to your account, please contact me.
Your catalog is really long and I just want to find music for one particular instrument. Can I do that?
Yes, if you'll go to the
catalog
and select from the list of filters at the top of the page, you'll be able to narrow down the list to exactly what you're looking for.
I accidentally ordered multiple copies of a piece of music. Can I get a refund? I only wanted one copy.

Yes, you can get a refund. Just send me an email through my
Contact Page
and I'll request a refund through Paypal.
Can I buy something on your website without using Paypal?
Yes, you can send a check to this address: Janet Lanier, 2111 N Fork Rd, Washougal, WA 98671. Once I receive your check, I will email the PDF of the music to your email address.
Also, if you have a credit card but no Paypal account, you can still go through the Paypal checkout process:
"Customers enter their name and shipping address. They're prompted for their credit card, email address, and phone number. (Optional) After reviewing their information, they may choose to save their information by creating a PayPal account to make future transactions faster."
Will I receive a copy of the pretty music cover when I buy one of your pieces?

I usually do not include the music cover with the PDF of the music you purchase from my site but if you would like one, just send me a message through the
Contact Page
and I can email it to you. The reason I don't include it is because the music cover images are all in color and if you would print it out on your home printer, it would use up a lot of your color ink supply.
Can I buy your music through the forScore store?
For a few years I did offer my music in the forScore store but in February 2019, forScore announced that due to changes in Apple's in-app purchase system, they will end this program and retire all third-party products in the forScore storefront. If you have already purchased one of my pieces through the forScore storefornt your purchase should still be available for download but my pieces will not be offered to any new purchasers as of the March 31, 2019. If you have any problems with a forScore store purchase of any of my pieces, please let me know through my contact form.
You offer many of your pieces at Trevco-Varner. Is it best to purchase something from these places rather than your site?
Trevco-Varner does a really nice job of printing my music. They use high quality paper and provide a professional look to their scores. They have several of my woodwind pieces but not all. Although all of the selections on my website are digital downloads, I would be happy to print my pieces to mail to you at your request. There will be an extra charge for printing, shipping, and handling so please let me know if you want something printed and mailed and I can give you the cost of processing.
You have several free pieces on your website. Do I need to sign up for anything to get those?

You do not need to sign up for anything! I sometimes find so many websites that say they offer something for free but there's often a catch such as signing up for an account or maybe the free item works for an X number of days. When I offer something on my site for free, I really mean it's free! All of the free items on my site can be found here:
Free Music Downloads
When I look at the list of downloads in my account of pieces I have purchased from your website, I see there are multiple numbers of downloads available to me. If I bought only one copy, why are there multiple downloads available to me?

I allow a multiple number of downloads for everyone who purchases from my website because if you ever have any glitch in downloading something, you'll have multiple tries. You should see in your list of downloads that you have 2 numbers (1/5). The first number is how many times you've already downloaded it and the second number is how many total tries you have. This does not mean that you can download the piece several times and resell it or give it away. (I trust my customers and know that they would not do that anyways.) Please note that there is a time limit to downloading your purchases (usually a couple of months). However, if you ever have a situation where your download expired and you need to download something, please send me a message through my
Contact Page
and I'll reset the expiration date.
QUESTIONS ABOUT MY WEBSITE
There's a piece in your catalog that I really like but it's not offered for my instrument. Would you consider writing one?
In most cases, I would be happy to consider that. Since I compose in Finale, I can often transcribe parts for other instruments quickly. Just send me a request through my
Contact Page
. If for some reason the transcription would not work very well for your instrument, I would certainly discuss it with you.
You have a harp piece on your website that I like but I can't play it on my lever harp. My harp only has 22 strings or my harp is not fully levered. Would you consider offering another version either for a smaller/larger harp or in a different key?
Yes, I would be happy to check for this possibility and offer it on my website. Let me know what your needs are and I will see if the particular piece will work in another version for you.
There was an article or something I read on your site but now I can't find it.
There is a SEARCH box near the top of most pages. You can search for anything on the site with this feature and it will bring up a list of links with short previews.
I see you have a link for following you on Pinterest. What does that have to do with your music?
Glad you asked that. Pinterest makes it possible for me to provide a gallery of sample pages of all my music. It's like going to the music store and browsing through all the scores but you don't have to leave home to do this! I have a Pinterest board for harp, for woodwind music, for vocal music, and for organ music. You can also browse through all of my desktop wallpapers on Pinterest.
I have a music website too and would like you to add it to your Favorite Links page. Would you consider doing that?
Send me your website link and I will let you know. It helps if you offer to put my link on your page too.
How can I find out about the latest pieces you've added to your site?
You can sign up for my newsletter,
MUSE NEWS
. I usually include the latest 3-4 pieces I've added to the website. You can also look at the sidebar of the website under "Recently Posted". However, if I add an alternative instrument to an existing arrangement, it will not show up under the Recently Posted list. If you're looking for something for your instrument, let me know and I can send a quick email to you when something new gets added.
Do you ever have any discounts or sales on your site?
Yes, I do! If you subscribe to the Muse News newsletter, you'll sometimes see some coupons offering 10% to 20% discounts on your entire one-time purchase. These coupons are usually limited to a few weeks.
I didn't sign up for your newsletter, MUSE NEWS but started receiving it.
Whenever anyone purchases a piece on my website, they automatically get added to the Muse News subscriber list. If you do not wish to receive this newsletter, you can easily unsubscribe by clicking on the link at the bottom of the newsletter.
What can I do if I forgot my password or username? How do I change my password or username? I want to change the email address on my account.
Near the login area in the lower right corner of the entry page, you should see a link for resetting your password. You will need to know what email address you used for originally setting up the account. Once you complete the form, you will be sent an email to help you reset your password, username or email address. If you have any trouble, please contact me through the contact page.
QUESTIONS ABOUT SOFTWARE I USE
What software do you use to compose your music?
I use Finale and have been using it since 1995. I find it very versatile and it meets my needs for creating pieces for anything such as single line instruments, small ensembles, large orchestral works, choral pieces, music theory documents and much more.
Did you design all your music covers?
Yes, I did. The photography is all from the locations I've lived (Colorado, Oregon, and some vacation locations). I create a template for the music cover in Pixelmator or Gimp to keep the overall look of my music covers consistent and recognizable. I select a photo that I think represents the music the best. If I don't have a photo that seems to work, I will create an image in Pixelmator or Gimp using gradient backgrounds and (photoshop) brushes. I will often find really good brushes at
Deviant Art
. Many of the artists there provide free images and only ask that you give them credit or tell them how you've used their image. Sometimes I will use a photo I took and combine it with a photoshop brush. I also use the same software and brushes to create the rotating images you'll see on my website's entry page and the free desktop wallpapers I offer.
Did you design your own newsletter? What program do you use?

Yes, I create my Muse News newsletter through
MailChimp
. It's a great online program that helps you to create subscriber lists, subscriber sign-up forms, and design newsletters using templates and drop-and-drag methods of inserting content. Not only is it easy to use, it's free!
Did you design your website and maintain it yourself? What program do you use for your website?

My husband, David is a long-time web developer using
Drupal
which is a content management system (CMS). He created my website based on my list of needs. Once the site was created, I was able to maintain it with added content and editing. Using a system like this is so much easier now than when websites first came out. It use to be that if you wanted to make any changes on your website, you had to contact the web developer to make the changes. I can make changes and additions whenever I want. It gives me a lot of control over my website.
Did you create your own videos? What software do you use to do them?

Yes, I create my own videos often using my own photography. I use a Cannon Rebel EOS camera. I sometimes use
Picasa
for a quicker slideshow of photos with music and sometimes I use
Motion 5
to create a video that requires more finesse and control on timing and effects. My tutorials for forScore are made using Reflection to mirror the iPad onto my laptop screen and
Screenflow
to create the video and add all kinds of effects. I believe Reflection is no longer available but the latest Screenflow application now has a feature to replace the need for Reflection.
Did you design the free desktop wallpapers offered on your site? What program did you use?
I did design all of the wallpapers using either
Gimp
or
Pixelmator
. I set up some templates for different themes and created the two sizes of wallpapers for computer screens or tablets. I also would create a wallpaper for woodwinds, harps, vocalists, and general music.
QUESTIONS ABOUT MY BACKGROUND
What instruments do you play?
I began my music studies on alto saxophone, then added oboe in high school. As I attended college, I also picked up English horn. I've played a little on various instruments through my school years and Army years including trumpet and piccolo. I would say my piano playing skills are enough to compose music but you'll probably never see me play it in public. I've played oboe and English horn for many years in professional orchestras. In 2005, I took up the lever harp and realized it is the instrument closest to my heart.
What ensembles have you performed in?
I have played oboe and English horn in various orchestras over the years: Canton Symphony and Akron Symphony in Ohio, 74th Army Band in Indiana, and Amarillo Symphony in Texas. I have also played for many churches (too many to mention) and in many small groups such as Cambiata (oboe, violin, piano), Troissant (oboe, violin, harp), Yün (woodwind quartet and piano), Shepherd's Trio (English horn, French horn, and piano). I have played in the orchestra pit for numerous musicals, ballets, and operas. I played in the Amarillo Symphony for over 30 years until I moved to Colorado. I no longer play the oboe and English horn but continue to compose for them. I have narrowed my focus now on solo lever harp playing and also compose and arrange for that.
What experience do you have in storytelling and harp playing?
When I was in Colorado, I was a member of a group of storytellers called Spellbinders for a year. It was a wonderful group of talented people who brought stories to elementary school children. I have a few of the pieces I would tell with harp on my website. I would find a good story to tell and then compose harp music to go with it. It was a lot of fun but it certainly was a skill to develop.