Free Music Downloads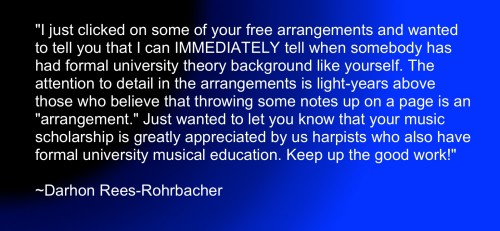 Here are the links of some free music PDFs I've written or arranged.

FOR HARP:

Summer Lullaby for Solo Harp and now a DUET!
God Rest Ye Merry Gentlemen for Harp
Hark! The Herald Angels Sing! for Harp
We Wish You a Merry Christmas Harp Duet
Flight of the Mountain Bluebird for 3 Harps

Sing a Magic Song for Harp Duet
Three Lullabies for Small Harp


FOR LIKE INSTRUMENTS (harp, piano, flute, oboe):
Jingle Bells Round for 2 or 3 Parts
FOR VOCAL:
Let There Be Light (SATB hymn)
ENJOY!