My Bonny Moorhen for Harp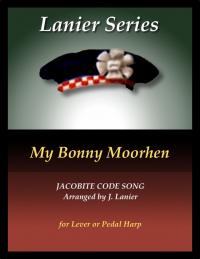 For Lever or Pedal Harp
JACOBITE CODE SONG
Arr. J. Lanier
When first hearing the lyrics of this song, one might think it was about a marsh hen called a moorhen but "My Bonny Moorhen" (also known as "The Bonny Moorhen") was really a political song called a Jacobite code song. In the 1700s, any song about Prince Charles Edward Stuart (also known as Bonnie Prince Charlie or the Young Pretender) would have been forbidden so "code songs" were written.
This 5-page arrangement is in E Minor and requires no lever or pedal changes. (see preview below)
Price $3.50
Click "add to cart" below
My bonnie moorhen, my bonnie moorhen,
Up in the grey hill, doon in the glen;
It's when ye gang but the house, when ye gang ben,
Aye drink a health to my bonnie moorhen.
My bonnie moorhen's gane over the main
And it will be simmer or she comes again;
But when he comes back again some folk will ken,
joy be with thee, my bonnie moorhen.
My bonnie moorhen has feathers anew,
She's a' fine colours, but nane o' them blue.
She's red and she's white and she's green and she's grey,
My bonnie moorhen, come hither away.
Come up by Glenduich and down by Glendee,
And round by Kinclaven and hither to me;
For Ronald and Donald are oot on the fen
Tae break the wing of my bonnie moorhen.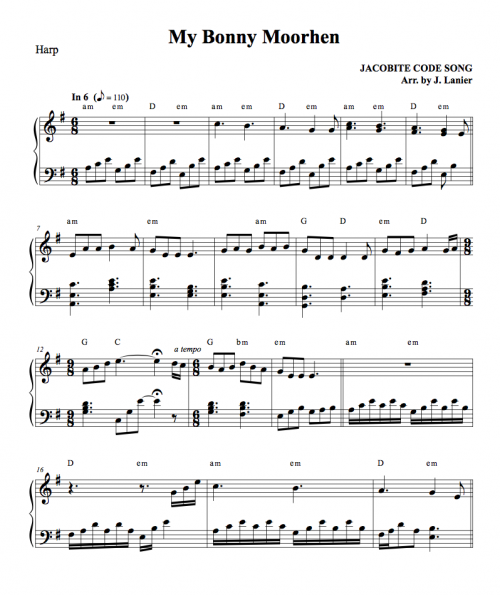 categories: