Black Capped Sweet-A-Dee for Solo Harp
For Lever or Pedal Harp
Words & Music by Janet Lanier
This delightful little tune in G Major is about a black capped chickadee that will warm your audience's heart. There are no lever or pedal changes but there are some interesting harp techniques for the advanced beginner such as a two-finger glissando in the right hand. There are also left hand over right hand crossings throughout as seen in the opening bars of the sample below. A couple of measures have a descending 5 note scale in the right hand that needs to be played with the fingering 1-1-2-3-4 (sliding the thumb over the first two notes).
Solo Harp version - $3.50 (click on "add to cart" below)
Click here for the Voice with Harp accompaniment version - $3.50
Want both versions for $5.50? Go to this page to purchase them at a discount.

Watch a video of two chickadees in slow motion. Very cute! The music background is the solo harp version of this song.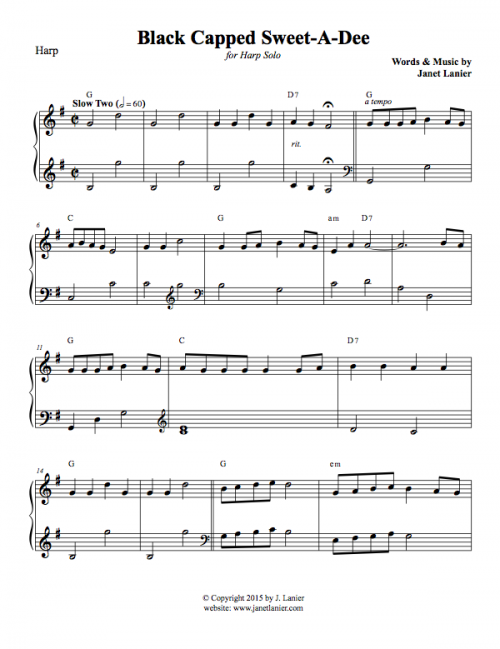 categories: