Heritage Park March for Harp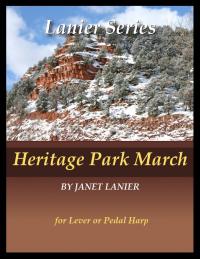 For Lever or Pedal Harp
By Janet Lanier
One lever change on the final chord.
Individual copy $3.50
(Click on "add to cart" below)
This composition was written to celebrate the residents and staff at Heritage Park Care Center. Once a month I play a harp program for 3 units of the center (nursing, Alzheimers, and assisted living). It's a wonderful caring nursing home and I felt they needed to have their own song written for them. The photo on the cover shows Red Hill in Carbondale, CO which is in view from the Heritage Park Care Center. They also have a beautiful view of the 12,965 ft. Mt. Sopris.
categories: