I Love to Tell the Story for Solo Harp and optional instrumental obbligato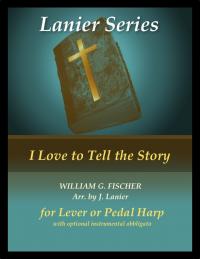 For Lever or Pedal Harp
with optional instrumental obbligato parts
for flute, oboe, clarinet, or English horn
WILLIAM G. FISCHER
Arr. J. Lanier
Key of G Major
Some lever/pedal changes throughout this arrangement for D#, G#, and F-natural
One measure calls for a right hand harmonic.
This arrangement can be played by a solo harp but there is an optional obbligato that can be played with it. Included are parts for flute, oboe, clarinet, and English horn. See sample score below the sample solo harp part.
Price: $3.50 - includes Score, Solo Harp part, obbligato parts for flute, oboe, clarinet, or English horn
(click on "Add to cart" below)