Harp Book: Joyful Harp Series Book I: Original Compositions & Arrangements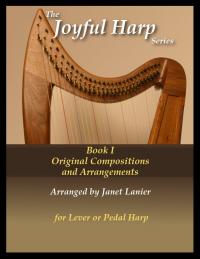 The Joyful Harp Series
Solos for the Adult Beginner
Book I: Original compositions and arrangements
For Lever or Pedal Harp
By Janet Lanier
Each song is one page long and positioned on the right side of the booklet to help the beginner.
No lever changes in any of the songs
Inspiring quotes and poems included.
Price $15.50
(Click on "add to cart" below)
Individual songs may be purchased separately. To see a sample preview of each song, click on the titles.
Original songs: Summer Lullaby (see the free download of this song), Flying Away, A Garden Stroll, I See the Smile in Your Eyes, Distant Lands
Arrangements: Old Rugged Cross, Amazing Grace, Happy Birthday
A harpist in Michigan after playing "Flying Away" for a wedding wrote: "Your piece of music was that of "Flying Away" and it has such beautiful chords in "just" right places... The brides mother LOVES this song.... and I thank you for creating such a piece." ~ Paula St. Pierre
Other books in the Joyful Harp Series:
Joyful Harp Series Book II: Loved Hymn Arrangements
Joyful Harp Series Book III: Hymns We All Know
Joyful Harp Series Book IV: Songs of the Garden