Skies of the Open Range for Three Harps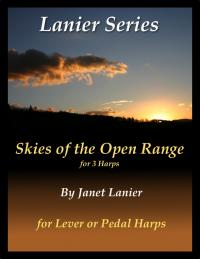 For Three Lever or Pedal Harps
By Janet Lanier
Key of C
There are no lever or pedal changes required in any of the 3 parts
Score and Parts - $8.50
When you purchase this work, you will be able to download one PDF file that contains a full score, followed by the 3 individual harp parts.

Watch a video using this compositon. I'm playing all 3 harp parts!